Resident Film Projects
These are all the films ISHA residents have made
Click on the image to be taken to the film's page, you'll be able to watch the film as well.


A Trip To Paradise
A short film that chronicles the poignant events when things go wrong in the chaotic life of an underprivileged lad. It was written; directed and acted by young people whose lives might have mirrored this if they hadn't had opportunities to take part in positive activities such as this project run by St Mary's Path Estate Tenants Association.

I Wouldn't Need a Mansion
A film made by Islington and Shoreditch Housing Association residents who talked to other ISHA residents about where they live and how they got there. digital:works worked with the residents to make the film.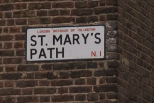 St Mary's Path - Pride In Place
A short film that showcases the work of the St Mary's Path Tenants' Association. It was premiered at the National Housing Federation's 'What We Are Proud Of Awards' 2009 where the Pride In Place project was a London Region Final runner up.